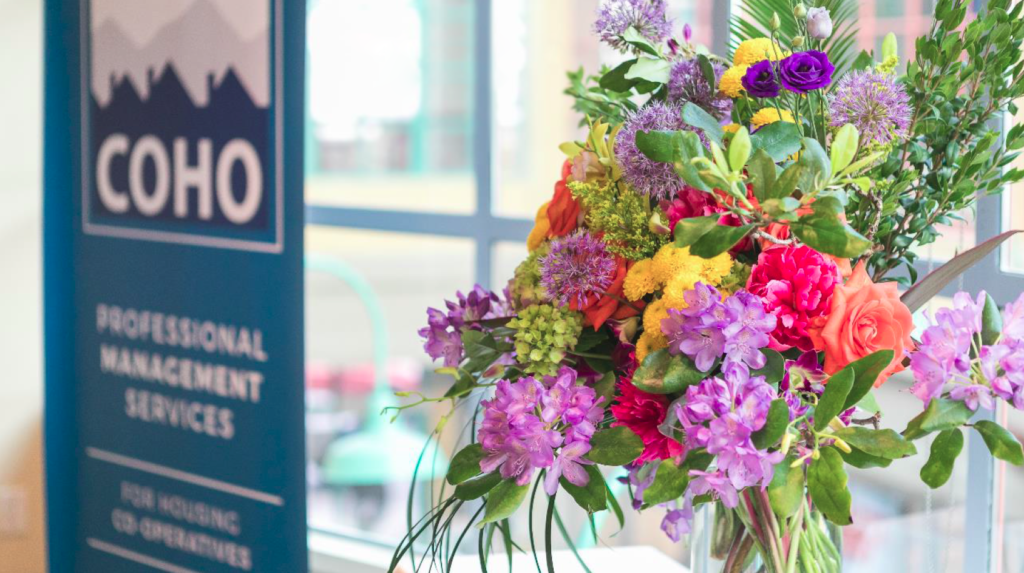 As COHO Management Services Society prepares to celebrate its 35th anniversary, we look back at its early days and how it grew to become one of the most successful co-op property management companies in Canada.
The early 1980s were an exciting time for the housing co-op sector in B.C. – new developments were springing up throughout the province, and the Co-operative Housing Federation of BC was taking shape to provide these co-operatives with the representation, advocacy and education they needed to become thriving communities.
But while the housing co-op foothold was getting ever stronger, there remained a loose step that just didn't seem to fit. The private, for-profit property management companies contracted to look after co-op developments weren't working out.
"These companies had no concept of co-ops, and how to react to co-ops," said David Lach, CHF BC's first board president. As private companies accustomed to telling tenants how things were to be done, Lach said they had a difficult time understanding that not only were there multiple property owners they needed to work with, those owners were also the residents. He and Leo Burdak, another starting board member, knew that another solution – one that was aligned with the mission and principles of housing co-ops – was needed.
"There were private companies from which one could get management, but nothing really that the co-op sector had for itself, and was particularly attuned to co-op management needs," Burdak said.
In 1983 Lach and Burdak brought the idea to the CHF Canada board meeting in Halifax, where they were encouraged to develop a more formal proposal. Their successful pitch delivered in Toronto won them some start-up funding from the national organization to form a dedicated co-op housing property management company. They created the COHO name, a playful joining of the words "co-op" and "housing," but also a nod to salmon, a defining feature of the province.
Thirty-five years later, COHO Management Services Society is a thriving non-profit with more than 80 staff members dedicated to ensuring B.C.'s housing co-ops are expertly managed and maintained.
That doesn't mean COHO's early days weren't without their own hiccups. In fact, as Lach tells it, there were some definite misstarts in the first six months, and it wasn't until Nicholas Gazzard (who went on to become CHF Canada's Executive Director) came on board as the COHO leader that things really started to gel.
The organization started off small, providing mainly administrative and financial management services. But as co-ops aged – and particularly when the leaky condo crisis of the mid-1990s hit, the need for full property management services, maintenance and janitorial offerings became clear, said Halina Kuras, COHO's Director of Finance and Operations. That deep knowledge, and ability to quickly adapt COHO's service delivery to the changing needs of the co-op sector, have been at the root of the organization's years of growth. Today, COHO offers a wide range of services including administrative, financial, corporate and maintenance services.
"We cater to the needs of our client co-ops. We have expert knowledge of all co-op programs, our services are standardized and consistent, and we adhere to rigorous standards in all aspects of our service delivery," Kuras added.
Of course, providing such a wide range of services wouldn't be possible without COHO's staff.
Over the past 35 years, COHO has grown to more than 80 staff members who are as much a part of the co-op sector as they serve. Most employees have been part of or are currently living in a housing co-op, giving them first-hand knowledge and understanding of the sector and its needs. They also receive regular training, strengthening their skills and learning the latest in best practices to better serve B.C. co-ops.
As an organization, COHO is guided by a board of directors that are all current members of the CHF BC board of directors. The result is a firmly sector-based, mission-based management service that truly understands the unique outlook and structure of housing co-ops.
Those co-ops that are part of COHO's portfolio showcase the diversity that is at the heart of co-op communities. COHO clients are located throughout the province, but are concentrated in the Lower Mainland and southern Vancouver Island; they range from small co-ops of 15 to large developments of 225 homes, and they use everything from basic bookkeeping to the full suite of property management services.
"Our success comes from the loyalty of an incredible group of clients, the efforts of a mission-driven staff with long-term, stable leadership, and mission alignment with CHF BC," said Thom Armstrong, Executive Director of CHF BC.
Now, with a renewed sense of energy in the co-op sector buffeted by new and expanding co-ops through the Community Land Trust, there is more growth and success on the horizon for COHO.
"We started off with one or two people, and now it's this size," Lach chuckled. "When you start off it's with good intentions, you do what you can to put it on the right path…but you can't really foresee what will happen. Along the way there were corrections, new skills, so the success from that perspective was predictable, but when we were starting we just wanted it on good footing and from there it just took off."
Burdak reflected on 35 years of COHO history and how the organization has strengthened the co-op sector, saying it's prompted a shift from largely self-managed to professionally managed co-ops.
"COHO provides services co-ops couldn't provide for themselves, and they break it down so you can use just the ones you need," Burdak said. "And with the buildings getting older… it's nice to have someone in the office that knows what they're doing."
How can we help your co-op? For more information about COHO's services, please visit coho.bc.ca or contact us at 604-879-5771 or coho@coho.bc.ca.